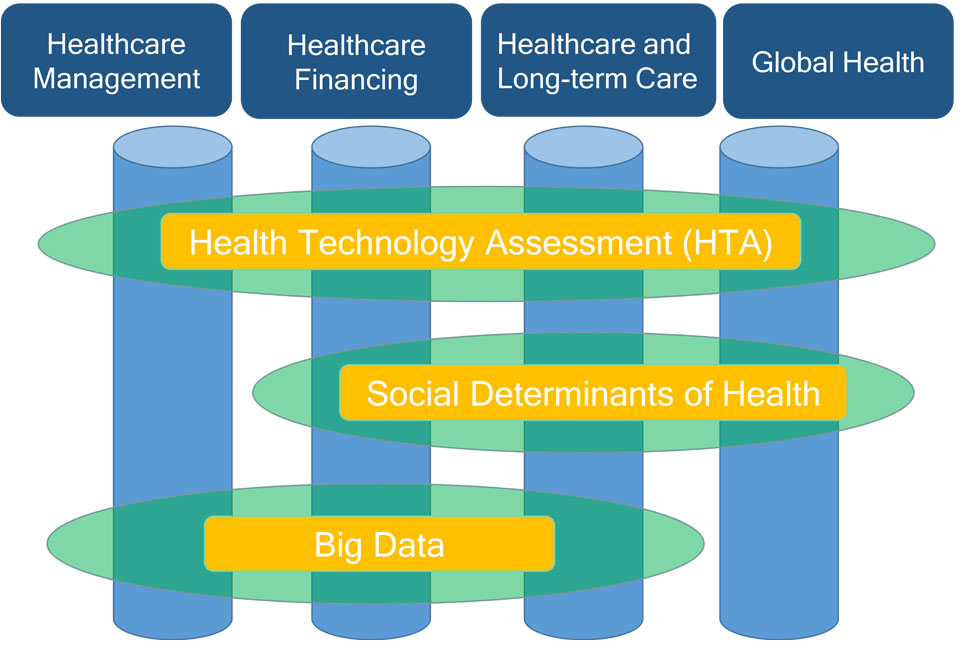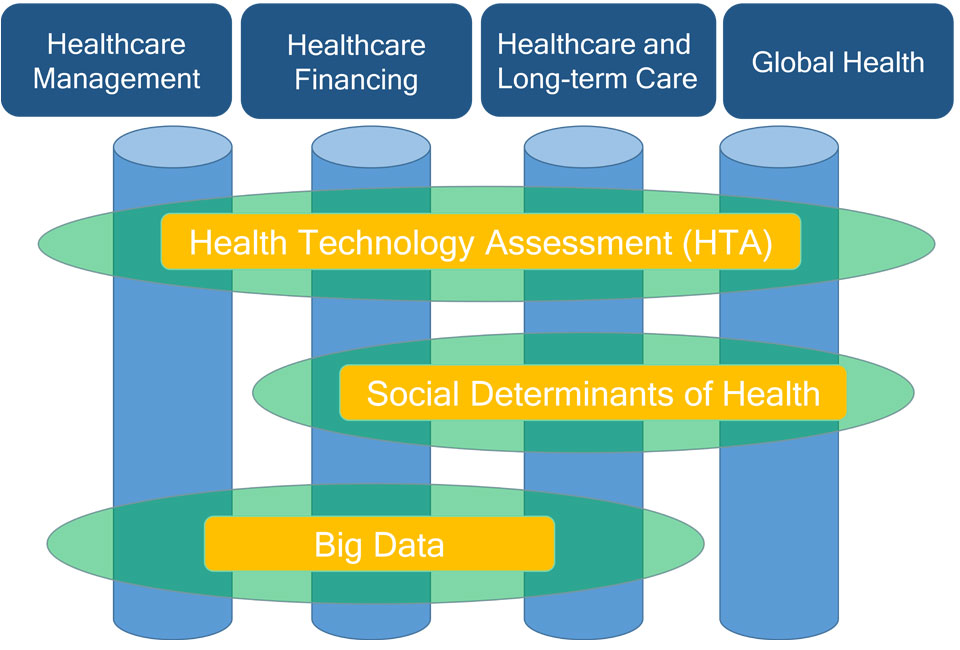 Healthcare Management
With the advent of an aging society, healthcare (including nursing care and welfare) is increasingly important but the cost of providing healthcare is increasing. As a result, there is a demand for high-quality and efficient healthcare. In that regard, it is the healthcare institutions that actually deliver the healthcare to the patients and users. Therefore, management of healthcare institutions is extremely important in realizing cost-effective healthcare. By our research in healthcare institution management, focusing on the medical corporations at the center of Japan's healthcare institutions, we will search for solutions to the problems of today.
HIAS Health Members & HIAS Health adjunct members
Research Projects
・Research on the management of healthcare institutions by utilizing business reports and other information of medical corporations
・Fact-finding research on the management of healthcare institutions utilizing postal questionnaire surveys
Healthcare Financing
As national healthcare expenditures exceed 40 trillion yen, containing the increasing healthcare expenses is an urgent problem. Healthcare is the greatest risk for Japan's fiscal situation. It is necessary to enhance efficiency of healthcare resources (budget) allocation without hurting the quality of healthcare. Toward that end we are working on visualization of regional differences and elimination of inefficient regional differences. Also it is necessary to review the social insurance premiums which are overall regressive and causes a disincentive to regular employment. We address these policy issues based on EBPM (Evidence Based Policy Making).
HIAS Health members & HIAS Health adjunct members
Research Projects
・"Panel Analysis of Social Determinants of Health,"Grants-in-Aid for Scientific Research (KAKENHI), Scientific Research (C), 20K01722, 2020-04-01– 2023-03-31, Principal Investigator: Takashi Oshio
In this study, we have two research purposes. First, we attempt to analyze the social determinants of health (SDH) by using data obtained from longitudinal social surveys, which can capture the long-term changes in an individual's socioeconomic behavior and health outcomes. We specifically discuss the impact of changes in employment status and social activities on health among the middle-aged and older adults. Second, we try to address the feedback loop from heath to the SDH taking into account their possible two-way causation, in contrast with most previous studies, which have focused on the one-way causation from the SDH to health.
・"Risk, Network and Democracy: Institutional Designs for Sustainable Society and Economy," Grants-in-Aid for Scientific Research (KAKENHI), Scientific Research (B), 17H02536, 2017-04-01 – 2021-03-31, Principal Investigator: Shinji Yamashige
The current social security system of Japan and its financing have major problems in sustainability. The number of elderly people continues to increase and it is estimated that in 30 years the number of elderly people will reach nearly 40% of the population. Japan's 2004 pension reform introduced an institutionally sustainable system, but this kind of system design has not been implemented for healthcare. Together with the increasing elderly population, there is continuing transition to a democratic system where the voices of the elderly are more likely to be reflected (the so-called "silver democracy"), and it is expected that the public's voice will further increase in regard to improving healthcare and long-term care. Under these conditions, to ensure sustainability, efforts to develop networks to mitigate health risk are becoming important. Considering that low fertility rate is the root cause which threatens the sustainability of Japanese society, it is especially valuable to pay attention to regional networks to alleviate the low fertility problem by reducing young couples' anxiety about pregnancy, children's health risks and child raising, in addition to the health risks of the elderly. By collecting and analyzing cases in which networks try to reduce health risks of the general public, we are researching ways to design institutions to ensure the sustainability of the social security system in aging democratic societies.
・Preventive care and health care spending
Healthcare and Long-term Care
A community-based initiative for preventive care and long-term care is one of the key measures to restrain increasing medical expenses as emphasized in "the Community-based Integrated Care System" advocated by the Ministry of Health Labor and Welfare. Through the analysis of receipt data (data of medical practitoneres' receipt for health claims) as well as the analysis and evaluation of local governments' initiatives, we conduct researches on the problems of the primary care system and the long-term care insurance system in Japan, especially the characteristics and issues around community-based healthcare, and studies to make a proposal to enhance overall quality management and provision of health care and long-term care.
HIAS Health members & HIAS Health adjunct members
Research Project
・"Exploring Inclusive Social Care Services Based on Lifestyle Structure in the Community," Grants-in-Aid for Scientific Research (KAKENHI), Scientific Research (C), 18K02101, 2018-04-01 – 2022-03-31, Principal Investigator: Yumika Shirase
For long-term care insurance and disability-welfare services, fiscal year 2018 saw the introduction of single integrated facilities that provide inclusive social care services to various users such as the elderly and people with disabilities. This research aims to explore, from the angle of inclusive social care services, how to provide appropriate long-term care and welfare services in a society with the assumed lifestyle structure of people are continue to live in the same community. In order to achieve the research objectives, we consider the challenges of future inclusive social care services from four viewpoints: (1) analyzing the lifestyle structure of local residents, (2) study of existing inclusive social care services and models, (3) research on introducing inclusive social care services to elderly people with disabilities, and (4) research on introducing inclusive social care services in regions with insufficient local resources.
・"Healthcare Innovation driven by Effective Hospital-bed Reductions and Urban Planning," JST R&D projects, 2018.10-2022.3, Principal Investigator: Yukiko Ito
Even under decreasing city population, we still have many hospital-beds and long hospital stays, and this misallocation of healthcare resources is a severe problem for Japan. To solve this problem, it is important to make hospital-bed reductions a profitable and productivity-increasing choice for hospital owners and local governments. Therefore, we aim to propose a methodology for healthcare innovation driven by effective hospital-bed reductions and urban planning. The two (inter-connected) objectives of our projects are (1) the development of methodology for effective bed reductions, and (2) investments using local open database of healthcare services.
Universal Health Coverage
Universal health coverage (UHC) means that everyone receives necessary health services of adequate quality without excess financial hardship. Achieving UHC has been a global policy goal and is one of the Sustainable Development Goals. Since 2017, HIAS Health have been part of a joint international project to help Senegal monitor and evaluate its UHC policies, closely collaborating with the Japan International Cooperation Agency (JICA) and the Universal Health Financial Protection Agency of Senegal (ACMU). We are currently expanding our initiative to help other countries, including those in the Asia-Pacific, to achieve or sustain UHC in order to make progress toward a healthier world.
HIAS Health members & HIAS Health adjunct members
Co-researcher
Research Projects
・"Impact Evaluation of the Japanese Development Aid for Universal Health Coverage (UHC) in Senegal", JICA joint research project
     Project Period: August 2017-March 2022
Mutual health organizations, Mutuelle de Santé (MS), are a core initiative to advance UHC in Senegal. This project is to monitor the progress of the initiative in three regions (Thiés, Diourbel, Tambacounda). In close cooperation with the Universal Health Financial Protection Agency (ACMU) of Senegal, the Japan International Cooperation Agency (JICA), and the World Bank, we conduct surveys on operational capacity of MS as well as on access to health care and impoverishment of the beneficiaries and other residents of the target regions.
・"Impact Evaluation of the Universal Health Coverage Initiatives", Grant-in Aid for Scientific Research A, KAKENH
     Project Period: April 2018 – March 2023      Principal Investigator: Motohiro Sato
     URL: https://kaken.nii.ac.jp/ja/search/?kw=18H03634/(in Japanese)
The ultimate goal of this research is to evaluate the impact of the financial and technical assistance for mutual health organizations (MS) that are provided by the Japanese government for advancing universal health protection in Senegal. We investigate whether the assistance contributes to 1) an improvement of operational capacity of mutual health organizations; 2) an increase in the coverage rate and access to health care; and 3) a reduction in households' catastrophic health expenditure. We conduct comparative studies examining the changes experienced in local mutual health organizations, with and without technical assistance program, over the course of three years. As part of our quantitative analysis, we conduct surveys on MS and households, collecting data to monitor operational capacity and coverage rate of MS, as well as households' access to healthcare and catastrophic expenditure.
Social Determinants of Health
In 2015, noncommunicable diseases (NCDs) killed 39.5 million people, accounting for 70% of total global deaths. NCDs have recently become one of the most serious health problems not only in high income countries, but also in low and middle income countries. In HIAS Health, we investigate social determinants of health behaviour and outcomes, aiming to inform policies for changing population health behaviour and for reducing socioeconomic health inequality. In particular, we conduct research to analyze a large scale consumer panel survey data, to understand the patterns of purchasing of risk-factor products (tobacco, alcohol, and soft drink), and also to quantitatively evaluate the impacts of public health policies to encourage healthier life styles.
HIAS Health members & HIAS Health adjunct members
Research Projects
・A study of socio-economic disparities of smoking behavior using consumer panel survey data
・A behavioral economic analysis of tobacco product choice using a natural experiment.
・An evaluation of the impact of introducing a sugar tax in Chile: impact assessment and epidemiological modeling
・An experiment to estimate the effect of sin taxe and nudge interventio in the UK
・A demand system analysis for estimating the substitution between soft drink and alcohol using consumer panel survey data
・An assessment of the effect of economic incentives on active travel
・Multilateral collaborative research for active travel focusing on cycling
・Air pollution and health inequality in China
Health Technology Assessment (HTA)
Health technology assessment (HTA) has been increasingly adopted internationally for healthcare resource allocation . To help advance HTA in Japan and other countries, we work together with a wide range of organizations and participate in multiple international collaborative research projects. For instance, HIAS Health is an active member of the HTAsiaLink, a collaborative policy and research network of HTA agencies in the Asia-Pacific region, and jointly operates the Asia HTA Consortium. We also provide support for healthcare policy makers and organize capacity building opportunities for junior researchers world-wide.
HIAS Health members & HIAS Health adjunct members
Research Project
・"Research on the threshold of cost effectiveness in health care," Grant-in Aid for Scientific Research B, KAKENHI
      Project Period: April 2018 – March 2021
      Principal Investigator: Ryota Nakamura
      URL: https://kaken.nii.ac.jp/ja/search/?kw=18H00862/ (in Japanese)
This research project aims to quantify "the health opportunity cost" of healthcare spending, to ultimately inform national cost-effectiveness thresholds. The health opportunity cost is a quantity that provides the grounds for cost effectiveness of health technologies to justify coverage and pricing of health technologies . The health opportunity cost of funding a given health technology can be defined as the level of population health that could have been gained if the budget had been allocated to another technology within the healthcare system. This research quantitatively identifies the health opportunity cost using data on individual medical expenses in Japan and Bhutan.
・"Advancing health technology assessment for efficient health resource allocation in low and middle income countries, " JSPS Core-to Core Program B. Asia-Africa Science Platforms Scientific Research
      Project Period: April 2020-March 2023
Adopting health technology assessment (HTA) can be a key to achieving defendable and efficient healthcare resource allocation and to improving population health. This program aims to establish an international collaborative research platform to further the implementation of HTA towards universal health coverage in low and middle income countries. The program is a collaborative initiative held jointly with Thai National Health Foundation (NHF), the Health Intervention and Technology Assessment Program (HITAP) of Thailand, Mahidol-Oxford Tropical Medicine Research Unit (MORU) and the Saw Swee Hock School of Public Health. This program involves international projects in Senegal, Bhutan, and the Philippines and will offer opportunities to train junior researchers and policy makers through joint primary research, workshops, and training programs.
Big Data
Big data such as receipts (medical fee statements) are available in the area of healthcare and nursing care and analysis of these data is expected to contribute to more efficient healthcare and nursing care. By developing analysis methods to analyze behavior change (incentives) of patients and healthcare institutions through analysis of domestic medical information, and utilizing a network of collaboration with overseas universities (SIGMA) which is promoted by Hitotsubashi University, HIAS Health works with big data used in international comparisons and other sources.
HIAS Health members & HIAS Health adjunct members
Research Project
・Impact assessment of changes in generic prescription behavior after prescription format revision using drug prescription receipt data (Project with the Institute of Statistical Mathematics)