Overview
Establishment of the Research Center for Health Policy and Economics (HIAS Health)
As health spending is increasing at an alarming rate in this super-ageing society, establishing a sustainable healthcare system has become a key societal challenge to Japan.
In order to contribute in solving problems related to healthcare and social security with high-level social science researches, Hitotsubashi University has launched the Research Center for Health Policy and Economics (HIAS Health) in the Hitotsubashi Institute for Advanced Study (HIAS) in February 2016.
Mission
We are to inform national and international health policies through rigorous social science research.
Vision
We are to make recommendations for Evidence Based Policy Making with rigorous evidence and theoretical thinking, which will underpin efficient allocation of scarce healthcare resources.
Three objectives
・Advancing research in Health Economics To pursue advanced research in the field of Health Policy and Health Economics by utilizing methodologies and knowledge from economics, finance, accounting, business administration, sociology and various other social science.
・Educating high-level Health Economics professional To develop professionals with advanced academic knowledge of social science relating healthcare and being capable of taking a comprehensive and panoramic view of sustainable society.
In 2017, Hitotsubashi University Graduate School of Economics launched the Health Economics Program, as one of the Advanced Professional Education Programs, for master's students. And a short-term intensive program for professionals is planned to start from 2018.
・Building a research and education network To establish a network for research on health economics by strengthening collaboration with researchers in various fields such as Medicine, Pharmacology, Engineering as well as Social Sciences and with institutions of healthcare, the government and private sectors.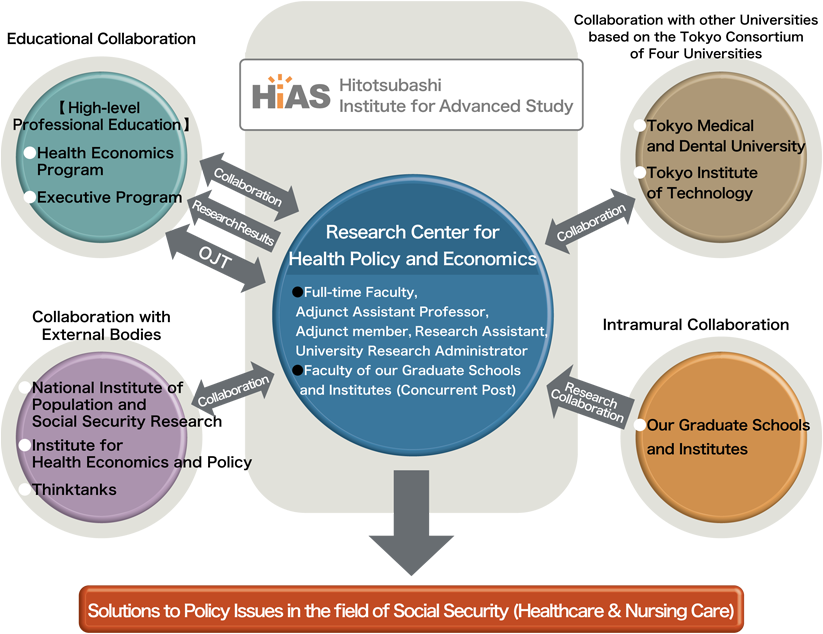 Key Characteristics of HIAS Health
・Interdisciplinary research Researchers with diverse academic background gather and conduct cross-sectoral social science researches in such fields as Economics, Finance, Social Security, Accounting, Management, Law etc.
Because knowledge in practice of healthcare and medical engineering are indispensable to pursue health economics research, HIAS Health is collaborating with research institutes of those fields. For instance, we are collaborating with the Tokyo Medical and Dental University (TMDU) and the Tokyo Institute of Technology.
・Reflecting the latest research results in policy making Many of members and adjuncts members are serving as a committee member of governmental advisory commissions and working groups and through their activities HIAS Health's latest research results are reflected in the social security policy making.
・Interaction between research and education Cutting-edge knowledge acquired through advanced research at HIAS Health will be incorporated in the educational programs, the Health Economics Program and the Social Cooperation Program, to develop health policy and health economics professionals.
On the other hand, the feedback from education setting is utilized in the researches.
・International collaboration HIAS Health commits the research collaboration with research institutes abroad such as Singapore Management University (SMU), University of York, UK, and other institutes.
HIAS Health, together with Japan International Cooperation Agency (JICA), is working on social scientific impact evaluation study of implementation of Universal Health Coverage (UHC) in Republic of Senegal which is supported by Japanese government.